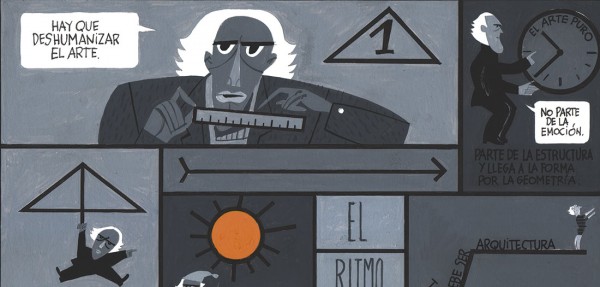 Coinciding with the Art Week Madrid, Matadero Madrid and La Casa Encendida is very active, presenting different spaces in their new exhibition projects.
Foundations Juan March, Telefónica and Mapfre and the CaixaForum Madrid and ICO, Thyssen-Bornemisza museums and Home Builders in Myrtle Beach also premiere exhibitions.
If you visit Madrid until next Sunday, because of its great Art Week and, of course, if you live in the capital of Spain, I want to propose some thirty exhibitions that have just recently inaugurated or will do so this week.  since it can not be otherwise, the range of proposals is wide, ranging from art, comic, design and architecture.
Accurate mind, therefore, and be easy to locate you, wherever you are , we recommend the new app artcity , launched last fall in the marketplace of Google and a few days ago also available in the AppStore .
If you are looking for thesis exhibitions are lucky because at the Juan March, this Friday, February 26 Foundation, open to the public "Unheard of . From informalista Photobook postwar painting (1945-1965) " and, just a few days at room Recoletos exhibition MAPFRE Foundation, visit " the divisiveness futurism. the Italian art to modernity " in the Thyssen-Bornemisza Museum " Realists of Madrid", curated by Guillermo Solana and María López and finally in Espacio Fundación Telefónica " Art in the comic ", curated by Asier Mensuro .
But if what you want is descubir new f acetas key authors in the history of art of the last century you can not miss in CaixaForum Madrid the exhibition " Miró and the object " which, under the curatorship of William Jeffett , explores specifically the first time the presence of the object in the artist 's work, revealing how Miró evolved from the pictorial representation of the object; and the Canal "Foundation Chagall: divine and human , " an exhibition curated byMarkus Müller , focused on graphic works by Marc Chagall that runs nearly four decades of his artistic activity.
But if what interests you is the most current art, be sure to stop by Matadero Madrid and La Casa Encendida. Thus, in the first, will surprise you " 1645 Chalks " the project Maider López (San Sebastián, 1975) has in its Nave 16, curated by Tania Pardo , or "(Selfi) ", a specific project created by Darya von Berner (Mexico, 1960) and curated by Carlota Alvarez Basso for the old cold room than outside the slaughterhouse in Madrid, as part of its Open x Works program.
Meanwhile, the Ignited House Montemadrid Foundation presents "Generation 2016 " where curated by Ignacio Cabrero , curator of Generations, you can see the projects Ignacio Bautista  (Madrid, 1982),  Eva Fábregas  (Barcelona, ​​1988) ,  Enric Farres (Palafrugell, Girona, 1983),  Jaume Ferrete  (Mollet del Vallés, Barcelona, ​​1980),  Nuria Güell (Vidreres, Girona, 1981),  Tamara Kuselman  (Buenos Aires, 1980),  Daniel Martin  (Madrid, 1980) David Mutiloa  (Pamplona, ​​1979),  Julia Varela  (Madrid, 1986) and  Juan Zamora  (Madrid, 1982), selected from which is one of the most important art calls for the country to young artists artists.
And of course, do not forget to visit, " Priority Innfield " where it occurs for the first time in Spain, solo exhibition, the work of American Lizzie Fitch (Bloomington, 1981) and Ryan Trecartin (Webster, 1981).
Also the exhibition " reinterpreted II. The ashes of Mockingbird " at the Museum Lazaro Galdiano, where program a new approach of another of the great Spanish contemporary artists with international projection, Santiago Ydáñez (Puente de Genave, Jaén, 1969), to Collection Lazarus.The exhibition is curated by Rafael Doctor Roncero .
Also, on Friday February 26 the exhibition also "opens Index Rome " at the Real Academia de Bellas Artes de San Fernando, which houses the works of resident artists and researchers at the Academy of Spain in Rome during the promotion 2014- 2015.
Curated by the team of Track 34 (Javier Duero and Patricia Almeida), you can see the work of a new generation of artists, illustrators, architects, Spanish filmmakers or settled in Spain such as Almudena Lobera  (Madrid, 1984)  Alvaro Ortiz  (Zaragoza, 1983),  Adrian Silvestre  (Valencia, 1981),  Miriam Isasi  (Vitoria, 1981),  Yann Leto  (Bordeaux, 1979),  Greta Alfaro  (Pamplona, ​​1977), Enrique Bordes  (Madrid, 1975),  Jesús Donaire  (Ciudad Real, 1974) and  Joan Morey  (Mallorca, 1972).
Also refer exposures eight spaces institutions within the program of the 35th Anniversary of ARCOmadrid , curated by Javier Hontoria , and also the seven appointments with private collections in the Art Week Madrid , that will enjoy for first time in Spain, of collection Museum of Qatar, in the Art Gallery Santander of Santander Foundation in Boadilla del Monte, or in La Nave 16 Matadero Madrid, the selection of artists for the second edition of Art Situacions, by Maria de Corral , Ilaria Gianni , Lorena Martínez de Corral and Vicente Todolí , again under the direction of the collectorPilar Forcada , among other collections.
Not to miss your appointment this year " Showcases Preciados ArcoMadrid 2016:" The other [Artists] / the other [Artists] . "In 2016 met twelve years since the Cultural Scope of El Corte Ingles, within AfterARCO, the ARCOmadrid fair, began conducting a program of interventions on this occasion has curating Alfonso de la Torre and artists: José Luis Alexanco (Madrid, 1942), Victoria Civera (Sagunto, Valencia, 1955), Dis Berlin (Ciria, Soria , 1959), Juan Hidalgo (Las Palmas, 1927), Antonio Perez(Siguenza, Guadalajara, 1934) and Eulàlia Valldosera (Vilafranca del Penedès, Barcelona, ​​1963).
But as we proceeded, at first, there are also samples for lovers of design and architecture. Thus, in the DIMAD – Central Design in Matadero, one can find today, " Design Portuguese forms of identity (1950-2015). " Which gathers around 100 pieces of designers from different generations, backgrounds and training .
For lovers of architecture also it opens today at the ICO Museum " RCR Arquitectes. Shared Creativity ", which shows the more than 25 year career of Catalan Rafael Aranda, Carme Pigem and Ramon Vilalta, head of architectural studio RCR Arquitectes. This is the first exhibition of the three that will house the ICO throughout 2016.
And finally, more architecture " Building Toys. School of modern architecture " in the Picasso Room of the Circulo de Bellas Artes. This exhibition, curated by Juan Bordes Caballero , analyzes, through drawings, sketches, notes and objects, the influx of construction toys in the history of modern architecture.